Geothermal Research Center (GRC) Faculty of Engineering UGM was established on 16th February 1995 by the Minister of Mining and Energy of the Republic of Indonesia. It was initiated through the Faculty of Engineering UGM and PERTAMINA joint research on heat and mass transfer in geothermal system (1993 – 1998) that involved the Departments of Geological Engineering, Mechanical Engineering, Electrical Engineering, Chemical Engineering, and Physical Engineering.
About Geothermal Research Centre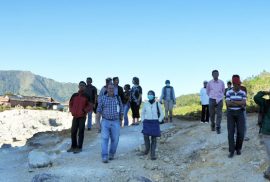 Community support is very important in ensuring the sustainability of geothermal development activities. GRC helps provide correct and balanced information regarding geothermal energy, its benefit to the environment and its importance in elevating the prosperity of the community. GRC geoscientists ...