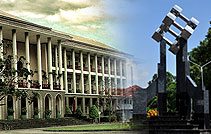 Geothermal Research Center (GRC) Faculty of Engineering UGM was established on 16th February 1995 by the Minister of Mining and Energy of the Republic of Indonesia. It was initiated through the Faculty of Engineering UGM and PERTAMINA joint research on heat and mass transfer in geothermal system (1993 – 1998) that involved the Departments of Geological Engineering, Mechanical Engineering, Electrical Engineering, Chemical Engineering, and Physical Engineering.
In responding to the challenge to cover a board spectrum of geothermal competence GRC activities involve the inter-faculty resource sharing, especially with the Geophysics Study Program of the Faculty of Mathematics and Natural Sciences.
The establishment of GRC has opened the gate to collaborations of both national and international scales, as well as capacity building of the UGM's junior academic staff through their involvement in research activities and advancement of education at overseas leading universities.
GRC thrives toward the excellence in research, training, and community service.